Should corporate music be able to control your access to the net? Should Peter Mandelson be able to block any website he dislikes on a whim? Should any powerful rights holder be able to bully any website they like off the web? Should wireless networks in schools and universities be fundamentally put at risk through the actions of just a single user? Those are the inevitable outcomes of Peter Mandelson's Digital Economy Bill, which has now been passed by the House of Lords and is now on course to be endorsed by the House of Commons without even a debate. As Gary Marshall at Techradar puts it: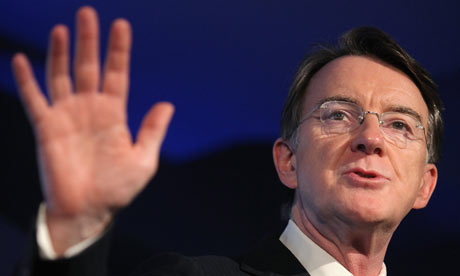 This isn't about file sharing or fighting for your right to download dodgy MP3s. It's about much more than that.

It's about stopping a law that could bring libel-style censorship to UK ISPs, forcing them to block the next YouTube on copyright owners' say-so – with no penalties for organisations making misguided or malicious accusations. It's not hard to imagine politically awkward sites such as Wikileaks ending up on the blocklist too.

It's about stopping a law that would make cafes and libraries responsible for their users' activities, bringing an end to open Wi-Fi.

It's about stopping a law so badly written that it could shut down an entire mobile phone network for a dodgy 3G download.

It's about stopping a law that enables anyone to rip off photographers by removing image data and claiming they couldn't find out who took the photo.

It's about stopping a law that penalises the law-abiding majority – by upping ISP costs and therefore everyone's broadband bills – for the actions of a tiny minority.

It's about heeding the concerns of crazed anti-copyright hippies such as the Metropolitan Police, the Serious and Organised Crime Agency and MI5.

More than anything, it's about democracy. Despite the Digital Britain consultation arguing that beheading for Beyoncé downloaders wasn't a brilliant idea, the Digital Economy Bill has become dominated by a vocal minority, the so-called creative industries, with other equally important voices marginalised or ignored completely.
The Bill must be killed in its current form and we have very little time. You must email your MP by clicking here and make it clear to them we know what the Bill is designed to do and that they have an obligation to stop it. If you value freedom of speech in this country and on the net in particular join with me in stopping this terrible piece of legislation, designed only to please New Labour's corporate buddies.
No related posts.
Related posts brought to you by Yet Another Related Posts Plugin.