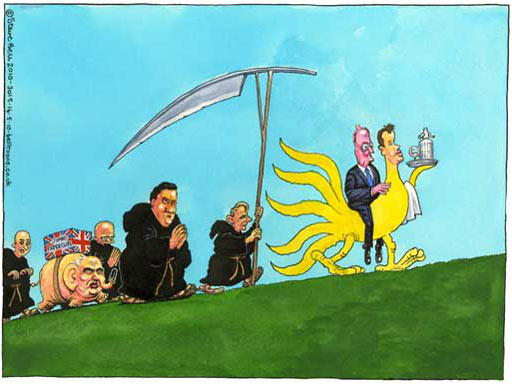 I've been wondering for a few days what the real, unique selling point of getting into coalition with Clegg was for Cameron. Was it out of weakness, given the right was calling for his head, after he failed to pull off a majority in the Commons? Was it because he could decapitate them after sharing the blame for the upcoming budget cuts? My personal opinion seems to be shared by a number of Tories, and is cross-posted from conservativehome:
"Cameron is deliberately using the alliance with the Liberal Democrats to reduce the power of the Conservative Right"

I've already published two sets of findings from the ConservativeHome Members' Panel:

The third is something Cameron needs to nip in the bud:
I'd disagree that it's something he needs to nip in the bud. It's entirely possible that Cameron has acknowledged that a significantly right wing Tory Party still can't win a general election outright in the UK. By going into coalition he can sideline his right wing nutjobs and tack towards the centre. Obviously that poses significant dangers for him, but pulling any sort of success off with the coalition may very well yet be his 'Clause 4′ moment – the point at which he stared down the elements in his party who had prevented it from becoming electable in its own right. If Cameron has used the coalition to 'seal the deal' with his party (which he had blatantly not done going into the election), then it poses severe challenges for the incoming new Labour leader, be it a Miliband or a Cruddas. I'd be very interested in seeing what a  Tory leader not in hock to the most extreme elements of their party could end up doing.
No related posts.
Related posts brought to you by Yet Another Related Posts Plugin.