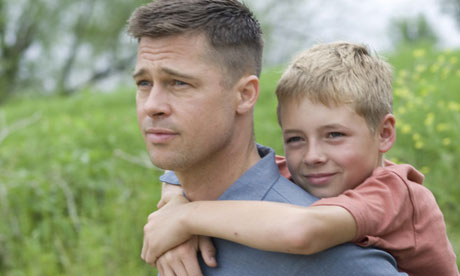 One of the worst films I've ever seen. Ever. I should point out that I'm not going to write a very long review for this pretentious load of crap because I walked out of it after 25 minutes, but I will give the reasons why.
Brad Pitt & wife Jessica Chastain lose one of their sons in the 1950s. It's never explained how but he dies in his youth, and the aftermath is anguish, sadness, loss and pain. You know this because the music tells you, the shots of an odd afterlife and trees and the sky tell you; there aren't any scenes as such. Cut to 2011 and the remaining sibling has grown up into Sean Penn, whom we see on the anniversary of his brother's death. We know this because he's sad. There's no dialogue, we see lots of sunshine, trees and shots of Penn in an Armani suit in the afterlife himself. He mulls things over, he's sad and anguished even now. Cut through to the beginning of time, with vocal appeals to God by Chastain. I left when writer-director Terrence Malik got as far as the dinosaurs, taking what felt like forever to make a very easy point that life goes on and always has!
There were no scenes, there was no plot, and whilst I have since learned that scenes and plot do appear after the horrifically self-indulgent musings over life, God and the meaning of existence (which did have astonishing cinematography), I don't regret walking out at all. Art should of course make you think, and should try to provoke, but I do expect a film I watch to have a plot, a beginning, a middle and an end. I also have no interest in watching a blatant, overly pious religion fest. Malik's arrogance is quite astounding, and I would encourage everyone who reads this review to avoid this pompous, patronising, self-important film like the plague.
1/10 (because the cinematography was so impressive)
No related posts.
Related posts brought to you by Yet Another Related Posts Plugin.