Oct 28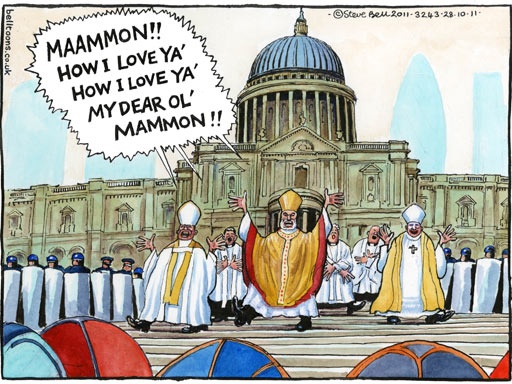 From "Occupy London protest issues demands to democratise City of London | UK news | guardian.co.uk":
An end to business and corporate block-votes in all council elections, which can be used to outvote local residents.
Abolition of existing "secrecy practices" within the City, and total and transparent reform of its institutions to end corporate tax evasion.
The decommissioning of the City of London police with officers being brought under the jurisdiction of the Metropolitan police force.
Abolition of the offices of Lord Mayor of London, the Sheriffs and the Aldermen.
And a truth and reconciliation commission to examine corruption within the City and its institutions.
I agree with them, but fear they'll be outmanoeuvred by an increasingly belligerent Church of England, aided as it is by the right wing press and other apologists. Giles Fraser is gone, edged out by a Church completely indifferent to its scriptural objectives. The organisation which repeatedly bleats about losing its influence and how it faces 'persecution' by no longer being able to discriminate against whomever it pleases, is going to show just what lengths it's prepared to go to to protect its privilege. Inequality? Who cares. Corruption in the City which is its home? Not a problem, because they do very well out of not challenging the neoliberal status quo.