Nov 11
Nadine Dorries, Conservative MP and notoriously less than fully truthful blogger has said (in said blog) of yesterday's student demonstration against the proposed hike in tuition fees:
The NUS informed the Police that there would be 5000 students attending the demonstration yesterday. They upgraded that to 15,000 on Tuesday night. The final figure was possibly as much as twice that number.
The final figure was a lot higher than even that. It's was demonstrable evidence that, far from being apathetic, students can get motivated to stand up for what they believe in.
The students arrived from all over the country, many in NUS organised coaches.

There are many eye witness accounts of NUS officials being right in the middle of the mêlée which ensued.
Are there? I'd be surprised if Ms Dorries can provide any evidence of this. I was there and saw no evidence of anything of the sort.
Many of the students who attended were visibly shaken at what was unfolding before their eyes.
The staff working in the offices at Milbank were terrified.

Someone threw an extinguisher off the roof which easily, so easily, could have killed someone.

Sir Paul Stephenson, has been incredibly professional in the way he has come out this morning and taken the hit on the chin.

Many of us MPs don't believe that is right. Westminster was swarming last night with literally hundreds of Police officers. If Sir Paul had known the correct number of students attending, maybe he could have had enough Police in place quickly enough.
I think that's an unbelievably naive position to take. So Aaron Porter underestimated the numbers he expected – that's entirely beside the point. The point is the Met allowed a student protest to run past Tory Party HQ, and then chose to defend it with only a dozen beat cops. I'm not defending the violence in any way, but common sense should have told them that that sort of planning was downright incompetent. Well done to the Met – I agree – for not going in and busting heads the way I thought they were going to, and they should of course prosecute the rioter who threw the extinguisher down at the police, but to blame the NUS for the Met's incompetent advance planning is just ridiculous.
It appears that the President of the NUS, Aaron Porter, did not brief him adequately. The NUS organised a demonstration which has resulted in people in hospital and students with criminal records, before they have even had time to fill in a job application form.

It was an NUS demonstration. It is not good enough that today they want to distance themselves from what happened with a 'not me Gov' statement. They cannot.
Sure they can, and they are right to. It's preposterous to hold the NUS to account for the behaviour of every single person associated with the protest, be they student or not – there were far more than the 50,000 some reports have suggested attended. How on earth could the people responsible for organising a peaceful protest be expected to manage each and every participant on the ground? Porter himself strongly denounced the violence from an early stage, the Met were extremely slow to respond (I know – unlike Ms Dorries I was actually there) and the stewards were desperately trying to shepherd demonstrators away from Millbank Tower. Maybe they should have been better trained, or there should have been more of them, but I doubt that would have had any noticeable effect on what happened. I also doubt the numbers attacking the tower would have been that much fewer, if the total overall number of protesters had been lower.
It is not good enough that the police are expected to shoulder all of the blame.

Aaron Porter should resign. He was the architect of a dangerous demonstration which could have resulted in the loss of life.
An ignorant thing to say, based on at best questionable motives. He was the architect of a peaceful, legitimate demonstration and had nothing whatsoever to do with the violence which impinged on it. Ms Dorries should be ashamed of herself.
The Police should be congratulated for what they did manage to achieve in the face of adversity.

Everyone has a right to peaceful demonstration. No one has a right to terrify and endanger the lives of others. Aaron Porter was responsible for that. It was an NUS demonstration and therefore they are fully responsible.
Yes they should – those on the ground had to put up with a mob, some of whose members were throwing missiles at them for no discernible reason. But to blame Porter for that is contemptible and I believe Ms Dorries should be condemned by every right minded person associated with or aware of the protest. Same old Tories, eh?
Nov 1
Given the Tories' support for Tony Blair's education policies, it's hardly surprising to see them accelerating under the ConDem coalition, particularly under these economic conditions. Jonathan Freedman has responded to Business Secretary Vince Cable's announcement of the government's plans for funding higher education:
They show just how "transactional" this government's view of citizenship really is: that it boils down to a cold calculation of what you as an individual put in and what you as an individual get out.

That is the premise for both John Browne's report into tuition fees and the debate that's followed. The starting assumption has been that a university education is to be viewed solely as a personal asset, and those lucky enough to get it should foot the bill. Not upfront, because that's politically unpalatable, but afterwards in the form of a personal debt. What's more, says Browne, the more prestigious the course or university, the more recipients should pay, since their personal earning power will be enhanced. There has been much talk about the mechanics of payback – when and at what rate – but few have contested Browne's premise: that students are essentially consumers who should pay for services they receive – the more upmarket, the higher the price.

Yet this is a radical departure from how we once conceived the public realm. Before Tony Blair introduced tuition fees, higher education was seen as a social good, enriching our whole society rather than merely an individual's future salary. It sounds quaint now, but the purpose of universities was to hand down to the next generation the stock of human knowledge and add to it. They were about learning rather than earning.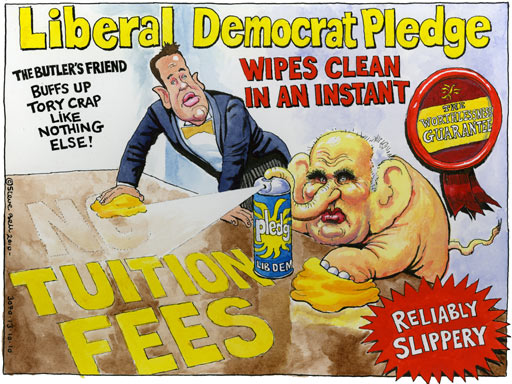 And this is the true iniquity of what's taking place under the cover of 'necessary' cuts. We could end Trident, institute a Robin Hood tax and make this entire issue redundant, but of course that's not what's happening. What's happening is ideological, not a financial necessity. The bankers created this problem, yet we're told the solution is to cripple the next generation with debt which isn't theirs. But instead why not withdraw this New Labour nonsense of pushing 50% of young people into university, whilst shutting down the legions of Mickey Mouse degrees like Media Studies or International Football Business Management? Aaron Porter, president of the National Union of Students has said:
that graduates would be shouldered with "crippling" debts and universities faced with "devastation". Lord Browne responded by saying that the 20 per cent of lowest earning graduates would actually be paying less under his proposal – with the threshold to trigger repayments being raised to £21,000 a year.

However, an analysis by the Social Market Foundation said students able to pay up front and avoid a loan could pay as much as £12,000 less than a middle-income graduate. It was this that prompted Mr Cable's pledge to consider a charge for early repayment.
So the immediate outcome is likely to be greater social inequality. Take a look at a snapshot of what students think:
Lauren Harris, 20, a student at Highbury college in Portsmouth, said she would give up her dream of going to Southampton Solent University if fees increased by as much as Lord Browne is recommending.

"If it's six or seven grand for a year plus the £5,000 debt I already have I probably won't do it. I'll go and get a job instead," she said.

The daughter of a lorry driver, Harris would have been the first in her family to go to university. "I wanted to go. I want to better myself. But I won't start my working life with a big debt."

She bridles at the idea that the proposed reforms would put students more in control. "It's the elite students who will be in control. They know they will be able to pay their loans back and if they can't, their rich parents will do it. It restricts people from poorer families going to university. It's not fair."
If we get into the state where going to university is only about increasing your earning potential in your future career, there will be consequences. Research and learning will suffer, as degree programmes warp around the overriding necessity of needing to provide employability for the highest earning careers only. Who'll need history? Who'll need journalism? Who'll need to study the classics? Some languages? There will become a marketplace for knowledge, which will damage the public sphere fundamentally. We'll also end up with an entrenched two-tier university system, which Simon Heffer agrees with:
A young person faced with substantial and expensive debt to finance a university education will ask him or herself: will the education I am going to get be worth it? This is not just a crude calculation about whether the salary likely to be commanded once the degree has been obtained would enable the loan to be repaid easily. It is also about whether the course being considered is likely to be sufficiently stimulating to merit the financial sacrifice. This consideration appears not to exist in the present era of cheap education, otherwise we must presume that a course such as Wastes Management with Dance, offered by Northampton University (a former technical college), would not exist.
And yet the quality of the course won't always be determined by the level of the fees – in fact there will not be any mechanism to ensure that. Heffer is making a hideous assumption that market forces will make these things happen, yet there are seriously entrenched interests at academic and administrative levels geared to prevent that from happening. There's no doubt that all universities will face that pressure, but they'll certainly not all face it equally.
This may result in fewer people choosing to go to university. It ought not to result in fewer talented people going to university. It will mean that people who are not academically gifted will judge that going to work, and learning on the job the skills they need to do it properly, is a far more beneficial use of their time and money than going to something that is allowed to call itself a university, and doing something that is permitted to be called a degree course, when in truth the former remains a vocational training college and the latter nothing but a diploma in a vocational study.
'Ought not' eh? Quite a telling caveat there, and of course we don't have a parallel, Abitur-style vocational option for those not geared up to a university education. In an era of job cuts and a shrinking economy and public sector he's essentially advocating throwing those not geared up for a 'traditional' university education onto the scrapheap. It's a flippant argument which won't wash.
The last Labour government's "target" of getting 50 per cent of young people into something called a "university" was not merely fatuous. It was also highly damaging. It spread precious resources too thinly, especially by diverting them away from able students from poor backgrounds. It devalued the notion of a university and of a degree. It misled employers and, most tragically, misled many students. Not every young person wants to go to university to enjoy three years of sex, drugs and alcohol. Quite a few want a qualification that will help them get on in life. In this, many are disappointed. A market will now operate, and it would be no surprise to see some institutions go out of business. It would serve them right.
It would serve them right eh? The 50% target did devalue the notion of a degree, no question about it, but not for the reason he cites – it's got nothing to do with a misallocation of resources. Employers used to decide employability based on whether or not candidates had a degree because it meant they were more likely to have more highly developed critical faculties. The 50% target has meant that more able undergraduates have had to get Masters degrees from more elite institutions, as employers have found themselves unable to determine the value of undergraduate degrees, dumbed down as many have often become. Heffer says the decisions made by undergraduates post-Browne are more likely to be even more marketised – that's true to an extent, but they'll without question be more socially stratified. Undergraduates will rush for elite institutions for courses they see as more likely to earn enough to pay back their crushing debt more easily. No doubt law will win out, perhaps maths and engineering-related subjects, but what about English literature or Astrophysics?
These plans will mean the marketisation of knowledge, which will be socially detrimental to us all.  Browne, if implemented by the ConDems would mean a dramatic increase in inequality of access to knowledge, but it would also undermine the social desirability of knowledge. It used to be a vital and essential commodity to the public sphere; to squeeze it out as desirable in and of itself, on the spurious presumption that it is fair game to be subjected to market forces because 'in these economic times nothing else matters', would put us on the same slippery slope which America is sliding headlong down. Not every aspect of public life should be allowed to be commodified.