Nov 9
Posted on
Tuesday, November 9, 2010
in
religion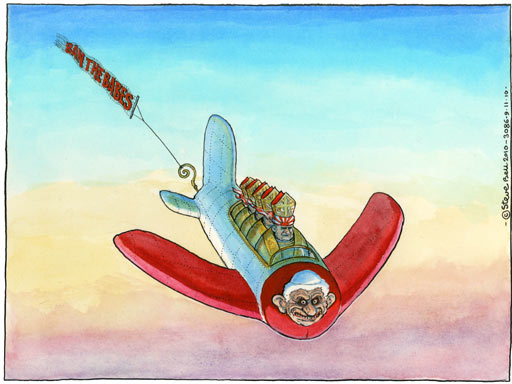 Five bishops have left the Church of England in a desperate attempt to legitimise their misogyny and homophobia by any means possible:
Five bishops have announced that they are converting to Roman Catholicism in protest at liberal Anglican reforms and urged others to follow their path.

As first reported in The Daily Telegraph, three serving and two retired traditionalist bishops announced that they are resigning in order to convert to Roman Catholicism.

The defections come as hundreds of worshippers prepare to take up the Pope's offer to join a new section of the Roman Catholic Church which is being established for Anglicans who cannot accept liberal reforms such as the ordination of women bishops.

The new body, known as the English Ordinariate, is expected to be finalised next week and to begin operation as a full part of the Roman Catholic Church next year.

The Catholic Church in England and Wales welcomed the decision made by the Bishops of Ebbsfleet, the Rt Rev Andrew Burnham; Fulham, the Rt Rev John Broadhurst; Richborough, the Rt Rev Keith Newton; and two retired bishops, the Rt Rev Edwin Barnes, honorary assistant bishop of Winchester, and the Rt Rev David Silk, honorary assistant bishop of Exeter.

In a joint statement the bishops expressed their "dismay" and "distress" at recent liberal reforms to the Church, in particular the ordination of women priests and plans for the consecration of women as bishops.
I wonder if they too think that ordaining women is as bad as paedophilia? What a loss it is, to have men with attitudes that out of touch with mainstream society leaving an organisation desperate to reconnect with a population that is coming to terms with the fact that the Church isn't the source of all morality. Any organisation which doesn't acknowledge social change, and/or which believes that the values of Bronze Age man 2000 years ago are remotely applicable in today's Information Age, has no place at all in modern society. Good riddance to bad rubbish – Rowan Williams is well shot of them. Now if he could only grow a spine…