Dec 30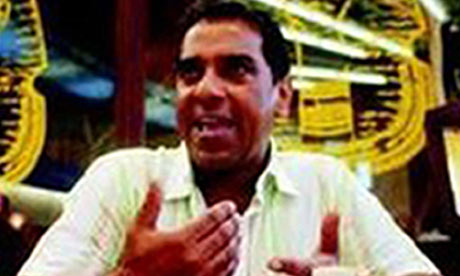 So China did the obvious and executed Briton Akmal Shaikh anyway:
Gordon Brown and other senior British politicians have angrily condemned China for executing a British man said to have had mental problems. Akmal Shaikh, 53, was killed early this morning by lethal injection after being convicted of drug smuggling.

Despite frantic appeals by the Foreign Office for clemency, Shaikh was executed at 10.30am local time (2.30am British time) in Urumqi. Campaigners believe he is the first European in 58 years put to death in China.

Shaikh, a father of three from Kentish Town, north London, was found with 4kg of heroin in his suitcase in September 2007. His supporters say he had suffered a breakdown, was delusional and was tricked into carrying the drugs.

Shaikh learned only yesterday that he would be killed today. He was informed by two cousins, who flew to China seeking a reprieve.

"We are deeply saddened, stunned and disappointed at the news of the execution of our beloved cousin Akmal," said Soohail and Nasir Shaikh in a statement.

The two men said they were "astonished" that the Chinese authorities refused to investigate their cousin's mental health on the grounds that the defendant ought to have provided evidence of his own fragile state of mind.

"We find it ludicrous that any mentally ill person should be expected to provide this, especially when this was apparently bipolar disorder, in which we understand the sufferer has a distorted view of the world, including his own condition."

Amid an angry exchange of words between London and Beijing, the British prime minister said: "I condemn the execution of Akmal Shaikh in the strongest terms and am appalled and disappointed that our persistent requests for clemency have not been granted. I am particularly concerned that no mental health assessment was undertaken. At this time our thoughts are with Mr Shaikh's family and friends and I send them our sincere condolences."
Of course it's appallling that anyone has been executed for any reason. The state has no more right to take an individual's life than another individual – it's barbaric. But consider Brown's words and then think for a moment about Gary McKinnon – apparently it's 'concerning' that no mental health assessment was undertaken by China of Akmal Sheikh, yet one was conducted on Gary McKinnon – he has Asperger's Syndrome. For some reason that makes it perfectly ok to extradite him to an uncertain future in the US penal system, despite what effect that is already having on his mental health. It's a disgusting double standard which says more about Brown and his government's public support for, and private indifference to human rights, than China's longstanding disregard for them. Foreign Office Minister Ivan Lewis said:
it was "reprehensible" and "entirely unacceptable" that the execution had gone ahead without any medical assessment. "This execution makes me personally feel sick to the stomach but I'm not going to make idle threats.

"This morning is not the time for a kneejerk reaction. It's true we must continue to engage with China but it needs to be clear as that country plays a greater role in the world they have to understand their responsibility to adhere to the most basic standards of human rights. China will only be fully respected when and if they make the choice to join the human rights mainstream and incidents like this do not help the international community's respect or relationship with China."
It isn't even an idle threat – it's an idle remark. China is now so powerful it can disregard any other's country's disapproval of its behaviour. China is currently only concerned about increasing its influence and its wealth, not its international respect – it can easily afford to ignore Britain's diplomatic attack, particularly considering its desperate, self-serving nature; if the British government really cared about Akmal Shaikh they'd prove it by blocking Gary McKinnon's extradition, but I assure you that won't happen. Amnesty International said:
Shaikh's execution again highlighted the "injustice and inhumanity of the death penalty, particularly as it is implemented in China". Amnesty estimates China executes at least three times as many people as every other country put together.

Sam Zarifi, Amnesty's Asia programme director, said: "Much information about the death penalty is considered a state secret but Mr Shaikh's treatment seems consistent with what we know from other cases: a short, almost perfunctory trial where not all the evidence was presented and investigated, and the death penalty applied to a non-violent crime.

"Under international human rights law, as well Chinese law, a defendant's mental health can and should be taken into account, and it doesn't seem that in this case the Chinese authorities did so.

"It's simply not enough for the Chinese authorities to say 'we did the right thing, trust us'. Now there can be no reassessment of evidence, no reprieve after a man's life has been taken.
Foreign Secretary David Miliband said of the execution:
"it is a reminder of how different can be our perspective. We need to understand China (and the massive public support for the execution). They need to understand us."
They'd do that a lot better if we weren't sending out such a disgustingly hypocritical message. Gary McKinnon's extradition must be stopped and he should be tried in the UK (except he wouldn't be because the Department of Public Prosecutions acknowledges there isn't enough of a case to answer).