Sep 7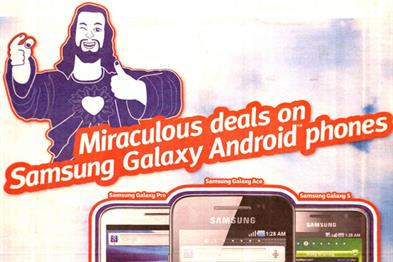 The current paranoid climate about Christianity is continuing:
Phones4U has been criticised by the ad watchdog for "mocking and belittling" Christianity in a national press campaign that featured a winking Jesus and the headline "miraculous deals".

The ad featured an illustration of Jesus Christ grinning broadly and winking with an image of the Sacred Heart on his chest, alongside the headline, "Miraculous deals on Samsung Galaxy Android phones". It was created by Adam & Eve. Media was planned by the7stars.

The Advertising Standards Authority (ASA) banned the ad after 98 people objected and claimed it was offensive to the Christian faith because of the imagery used, the use of the word "miraculous" and because it was published during the Easter period.

Phones4U defended itself by saying the intention of the ad, which ran in the Metro, was to portray a light-hearted, positive and contemporary image of Christianity.

The phone company issued an apology to all those who complained and withdrew the ads.

The ASA acknowledged that the ads were designed to be light-hearted and humorous, but ruled the ad was "mocking and belittling core Christian beliefs".

The watchdog said the ad was disrespectful to the Christian faith and likely to cause serious offence and as a result has banned the phone company from running the campaign again.
So 98 people had enough time to burn to be offended and do something about it? The ad is gently humorous, it doesn't even resort to mockery. It's abundantly clear it doesn't 'belittle' Christian beliefs, but even if it did – who cares? Since when should Christianity or any of its icons have legal immunity from being lampooned? This is crap of the highest order, and a display of unbelievable cowardice by the ASA. We have laws to prevent incitement of religious hatred, which is correct – we don't and should not have any laws to protect anyone from being offended.
Rant over.
(via British Humanist Association)