Oct 29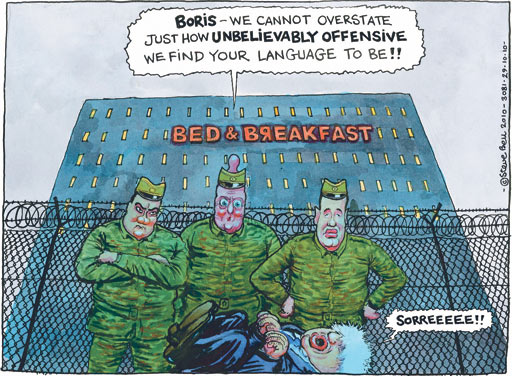 It seems as though the Tories really are engaging in disaster capitalism (Naomi Klein's 'Shock Doctrine'):
Councils in London have privately warned that low-income families will be driven out of richer neighbourhoods to the suburban fringes and parts of the deprived inner city, putting pressure on social services and schools and potentially "triggering a spiral of debt, eviction and homelessness".

Freedom of information requests to London boroughs revealed the disturbing consequences of government housing measures since July. The main measures cap payments to private landlords by councils for benefit claimants from next April – with four-bedroom homes limited to £400 a week. Six months later all rents paid from the public purse will be pegged to a third of market rates, down from a half. Claimants of jobseeker's allowance will lose 10% of housing benefit from 2013. Places such as Oxford, Blackpool and Brighton will be affected but the capital will bear the brunt of the changes.

George Osborne says the taxpayer should not be expected to pay for families to live in expensive city centres, but many councils have balked at the proposals. London boroughs estimate that 82,000 families – more than 200,000 people – face losing their homes because private landlords, enjoying a healthy rental market buoyed by young professionals who cannot afford to buy, will not cut rents to the level of caps imposed by ministers.

The result would be "social flight" to poorer parts of the capital as the reforms, according to one local authority, "effectively make it impossible for low-income households to rent in the private sector in inner London"
London Mayor Boris Johnson attacked the proposals, saying:
"What we will not see, and will not accept, is any kind of Kosovo-style social cleansing of London.

"On my watch, you are not going to see thousands of families evicted from the place where they have been living and have put down roots."

Despite the prime minister's insistence that the measures would go ahead unamended, Johnson indicated today that he was in talks with Iain Duncan Smith, the work and pensions secretary, to press the case for a three-pronged plan to mitigate the impact on Londoners.
Tim Montgomerie went on the offensive against Boris:
London's Conservative mayor supports the principle of the government's housing reforms – calling them "sensible" and describing the current position as "unsustainable". He does, however, have a perfectly reasonable concern that the change from the current payments regime to the new system should be handled carefully. Some high-end estimates suggest 80,000 London families might be affected by the new system, and that's a lot of potentially angry voters who Johnson – facing an uphill re-election battle in 2012 – needs to worry about.

In talking, however, of "Kosovo-style social cleansing" he risked insulting the memory of those murdered in that benighted part of Europe in the late 1990s. The mayor of London has since issued a statement saying he was quoted out of context but has yet to apologise for those poorly chosen words.

Where Johnson is right is in saying that a nationwide cap is going to be much harder on Londoners than any on other part of the country. The same housing benefits that would provide a very reasonable place to live in most of the UK will not provide particularly comfortable accommodation in the nation's capital.

In discussions with Iain Duncan Smith, the secretary of state for work and pensions, Johnson is arguing for more transitional relief. He wants a £30m pot of money to smooth the move of families from their current homes into new and more affordable properties. I hope he gets some of that money, but it must be transitional. As soon as possible, we must move to a system where people on benefits are not able to afford a better lifestyle than those who are working.
Polly Toynbee explains what's really happening:
This month people who lost their job have had their help with mortgage interest payments cut in half. Expect more arrears and repossessions. Next year housing association and council rents will risefrom their present heavily subsidised rents to 80% of the market rent for new tenants – about £100 more a week. New social housing will no longer be available to the poorest, but only to those who can pay high rents.

People in private rented accommodation will see their benefits capped from April. From October only rents below the 30th percentile for the area will be eligible. The Department for Work and Pensions says families will pay an average £22 more a week, but evidence suggests in many places it will be far more. But that's only part of it. In a radical change to benefit philosophy, anyone out of work for more than a year will lose another 10% from their housing benefit. This is a departure into the realms of US welfarism, influenced by the architects of American time-limited welfare who have been visiting David Cameron. Conditionality now gives way to punishment, shadow DWP secretary Douglas Alexander points out, regardless of how hard someone tries to find work that isn't there. This arbitrary cut is the first step to an entirely new policy.

But that's not all. The sum paid towards the rent will fall every year, in perpetuity: it will no longer rise as average local rents rise but will be pegged to the consumer price index. If that had happened in the last decade most people would have been priced out: rents rose by 70%, but the CPI only rose 20%.

Now add in something more sinister. Council tax benefit, worth an average £16 a week, is to be cut by 10% and then handed over to each local authority to decide how much benefit to offer: if some councils want to push poor people out, they can pay virtually nothing to their residents. But hey, that's localism.
And addresses Montgomerie's point swiftly:
Meanwhile housing benefit claims soared as lack of cheap council housing saw councils put people into expensive private housing instead. The crash meant new claimants among the unemployed and those whose hours and pay were cut. Councils put people into private rentals for lack of cheaper social housing, and of course the number of households is growing as people live longer. The shortage will get much worse with the housing budget halved.
All fairness to Tories – they know how to wield power when they get it. But this is social engineering on a scale which would make Dame Shirley Porter blanch. The objection the Right has with benefits is Tim Montgomerie's last line, but those rare examples happen for a reason, as Polly points out. Grant Shapps though disagrees with her:
Grant Shapps, the housing minister, embarked on an unwavering defence of his government's reform of the housing benefit system last night, dismissing some of the concerns of opposition MPs, housing charities and London councils about the likely impact of the changes as "complete nonsense".

As London Labour MPs warned that tens of thousands of poorer residents would be forced to leave the capital, Shapps rejected suggestions that the reforms could push large numbers out of London.

"The caps are not somehow draconian or unfair," he told the Guardian. "The average taxpayer does not want to see £21bn, more than the whole police budget, spent on housing benefit."
But what the ConDems don't want you to think about is tax avoidance – they want you to rail against the poor, who after all weren't the people responsible for the economic crash, but who are well placed to be the fall guys for an exercise in fundamentally reorienting the role and position of the state; Thatcher may have been Friedman to the core, but this will be Friedman on acid. Accordingly Vodafone not paying its tax bill won't bother the coalition at all, as Johann Hari shows:
For years now, Vodafone has been refusing to pay billions of pounds of taxes to the British people that are outstanding. The company – which has doubled its profits during this recession – engaged in all kinds of accounting twists and turns, but it was eventually ruled this refusal breached anti-tax avoidance rules. They looked set to pay a sum Private Eye calculates to be more than £6bn.

Then, suddenly, the exchequer – run by George Osborne – cancelled almost all of the outstanding tax bill, in a move a senior figure in Revenues and Customs says is "an unbelievable cave-in." A few days after the decision, Osborne was promoting Vodafone on a tax-payer funded trip to India. He then appointed Andy Halford, the finance director of Vodafone, to the government's Advisory Board on Business Tax Rates, apparently because he thinks this is a model of how the Tories think it should be done.

By contrast, the Indian government chose to pursue Vodafone through the courts for the billions in tax they have failed to pay there. Yes, the British state is less functional than the Indian state when it comes to collecting revenues from the wealthy. This is not an isolated incident. Richard Murphy, of Tax Research UK, calculates that UK corporations fail to pay a further £12bn a year in taxes they legally owe, while the rich avoid or evade up to £120bn.
It really begs the question who an informed taxpayer would really be more bothered about, doesn't it? By all means deal with the fall out of the economic collapse, but what's being done is ideological. Noone on either side of the political divide should be unclear about that.